Want Social Media Tips? Follow These 9 Twitter Accounts
Scrolling on social media can feel like an endless ocean of nothingness. Is it entertainment? Sure. If you're looking for nothing, you'll probably find it.
But what if you're on social media to improve your business? Maybe you're cruising social media about social media tips for your business?
First of all, congrats!
That's so META.
Second, you're in the right place. The following ten Twitter accounts are worth following.
1. Social Media Today (@socialmedia2day
Social Media Today has been dishing out social media tips since July of 2008. And by dishing out, we mean, a total drink-from-a-fire-hydrant amount of content. Their 190,400 and counting tweets since their inception averages to over 40 tweets a day.
If you're looking to improve your social media presence, Social Media Today has relevant content for you. Give them a follow today to see:
Daily updates about platform and business news—like where Facebook is expanding their brick-and-mortar, for example
Data on trends as they are happening
Seasonal information and updates to aid in your marketing strategy
2. Social Media Examiner (@SMExaminer)
Social Media Examiner is one of the leading B2B social media accounts. They're a must-follow for any social media manager.
Their conference, Social Media Marketing World, attracts over 5,000 attendees with hundreds of speakers, panelists, and hosts. Some have called it "THE social media marketing event." Although they went all digital due to COVID-19, the 2022 conference in San Diego will be in person. It doesn't get much better than San Diego in March. If you're serious about social media, this is the conference for you.
Follow @SMExaminer to see:
Updates about their invaluable seminars—remote and in-person
Links to how-to articles on their blog
Information catered to specific platforms
3. Hootsuite (@hootsuite)
Hoo was the first company to offer social media scheduled posts? Sorry for the pun—it's Hootsuite. They're the Original Gangsters of social media scheduling and management.
In addition to their industry-leading social media management tool, they also dish out daily social media tips like these to over 7.4 million followers:
Use the SMART method to set effective social media goals
Grow your following—the legit way—on platforms like YouTube and TikTok
Use Link In Bio features to drive traffic
4. Sprout Social (@SproutSocial)
Grow with Sprout. This software company is all about educating clients, enabling social media managers to get the most tactically out of creative content.
Their Twitter account features:
Great quotes from partners
Free resources offered by the company
Educational opportunities for those who are both new and old to the work of social media marketing
Check out their posts for useful templates, case studies, and guides.
5. Michael A. Stelzner (@Mike_Stelzner)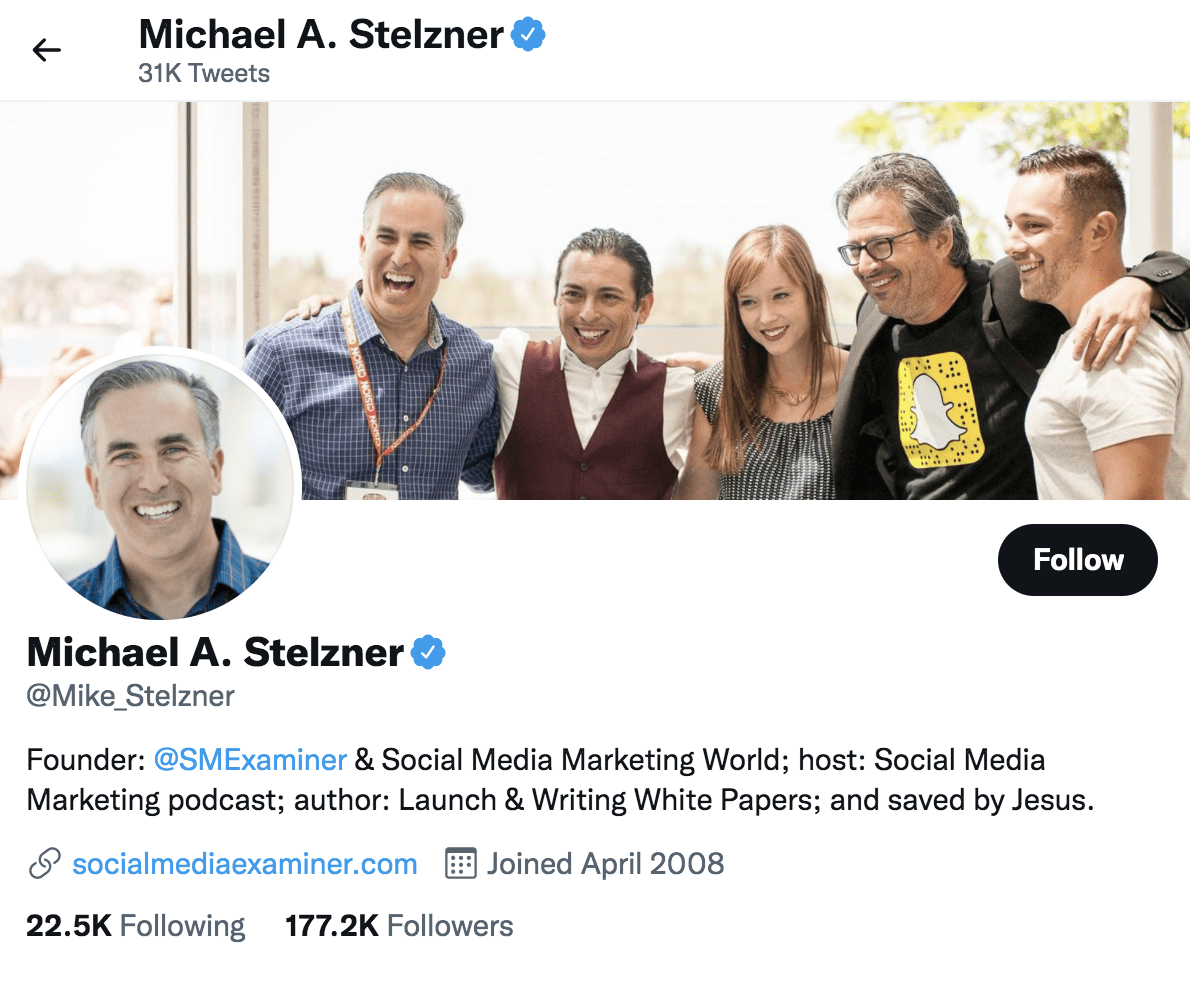 Remember number 2 on our list? Social Media Examiner? Mike happens to be the founder. He also has published a book and hosts a weekly podcast, making him a goldmine of tips and tricks for the industry. How does he have time for all of this? No idea.
Check Mike out for:
Links to his podcast episodes as they come out
Some stellar Social Media Examiner articles
A peek at his impressive network of social media professionals
6. Buffer (@buffer)
Buffer offers free tools to build landing pages and tweets about small business social media management tips on the daily. Their focus on small businesses and indie content creators makes them a great resource for everyone from the Etsy craftsperson to the corporate social media manager.
Buffer tweets about:
Their brand new podcast, Small Business, Big Lessons
Start Page—a free Buffer product that's a step up from the everyday bio link trees
Their social media calendar that is always growing and improving
7. Mari Smith (@MariSmith)
Mari is a lovely social media expert whose tweets serve up useful articles, platform news, and other tidbits. Those little details that platforms are constantly adding through coding releases can be game-changing for your marketing project, and Mari's content will make sure you never miss a thing—new or old. Check out her current pinned tweet for a useful walkthrough on what to do if your social accounts are ever hacked.
Mari also shares:
Articles from top organizations and businesses overflowing with useful information
Thought-provoking quotes about business principles
Social media platform news and what these updates might mean for you
8. Brittany (@MissBeeBright)
Brittany's Twitter account is the perfect blend of hilarious, entertaining, and educational. She also features other content creators and spreads lots of love and laughs on Twitter. Her personal posts offer a great example of what successful content should look like. She's also the founder of The Influencer League.
Give her a follow right now to see:
Little tips and tricks for creating engaging content
Social issues and how they play out online
A peek at her personal life and adorable babies
9. The Influencer League (@InfluenceLeague)
Started by Brittany (see above), The Influencer League is the self-proclaimed Ivy League for Influencers. This community of social media innovators offers support, education, and even consultations, and personal feedback.
Follow @InfluenceLeague and treat your eyes to:
Beautiful graphics and a soft color scheme that keeps you engaging in their content
Shout-outs celebrating the successes of their community members
Spotlights on talented Influencer League coaches